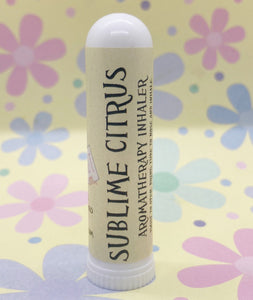 100% Pure Essential Oil Inhaler. 
Breathe deep and enjoy the aromatherapy!
Great for carrying around in your pocket, purse or keeping on your desk or nightstand. 
Our sublime citrus inhaler is a blend of citrus essential oils that include orange & bergamot, and is a great mood enhancer.
Citrus oils are known to help with bad moods and depression - so take a whiff and 
uplift your mood with this invigorating scent. 
Inhaler tubes are proudly made in the USA!