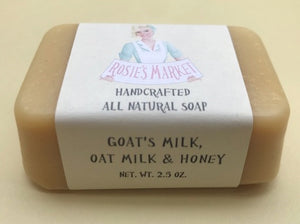 All-Natural Handcrafted Soap Bar is unscented, but picks up the subtle, beautiful scent of the raw  honey we use , and is loaded with lots of skin-loving and nourishing ingredients, including Goat's Milk, Oat's Milk and Pure Honey. 
This soap is great for those with sensitive skin and can be used on infants and children and is designed for face, hands and body. 
 Many people with eczema rant and rave about this soap.
Give it a try and see for yourself! 
Net wt. 2.5 oz.  
Size, shape, and appearance will vary slightly from bar to bar. 
Please keep soap dry between uses to ensure longevity of soap.
All our products are made using pure essential oils and are free from synthetic and artificial fragrances and dyes.
We are proudly a palm oil free company! 
 Ingredients: 
Olive Oil, Coconut Oil, Canola Oil, Goat's Milk, Sodium Hydroxide, Sunflower Oil, Oatmeal, Distilled Water, Pure Honey.