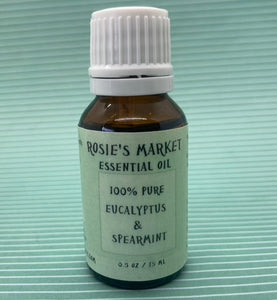 Our pure oils are all steam-distilled and of the highest quality. Diffuse or make your own cleaning, aromatherapy or body products (please check proper dilution rates). 
Eucalyptus essential oil is great for respiratory issues and paired with spearmint gives you that extra burst of energy.  This combination will make your home smell like a spa!  
Comes in 15ml /  0.5 oz bottles with dropper top. 

Looking for a specific oil not listed? Message us - we may carry it! 
Our Essential Oil bottles are manufactured in the USA !