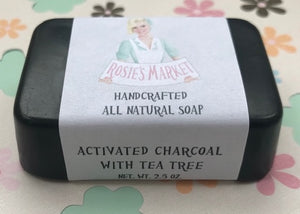 All-Natural Handcrafted Soap Bar with Charcoal and Tea Tree essential oil.  Our best selling soap, great for oily skin and acne. 

Designed with face in mind, but a cleansing hand and body soap as well. 
Net wt. 2.5 oz.  
Size, shape, and appearance will vary slightly from bar to bar. 
Please keep soap dry between uses to ensure longevity of soap.
All our products are made using pure essential oils and are free from synthetic and artificial fragrances and dyes.
We are proudly a palm oil free company! 
This soap bar is Vegan
 Ingredients: 
Coconut Oil, Olive Oil, Distilled Water, Sodium Hydroxide, Castor Oil, Shea Butter, Activated Charcoal, Essential Oil Blend.