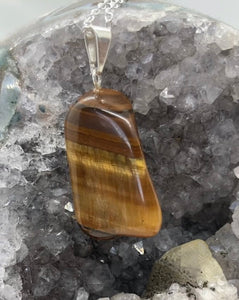 Polished Tigers Eye pendant on an 18" silver plated or stainless steel necklace chain. 
All our crystals are hand selected, ethically sourced and fair trade, right from the source. 
Please note that no two crystals are alike, and the necklace you receive will look somewhat different from the one pictured.  
 Tiger's Eye is known for its protective properties as well as a stone of financial success, and is associated with the Solar Plexus Chakra.